EPECAccelerates Global Promotion and Helps Platform Users Expand Overseas Businesses

EPEC has launched the resource exchange function between the Chinesesite and the globalsite,which realizes"one-stop service for domesticandforeign trade, import and export", and online barrier-free communication in the world's 11 major languages. Corporate members can purchase and sell overseas without switching language version. In order to further improve platform services and help members cope with the severe domestic and foreign trade environment under the COVID-19 epidemic, EPEC, Sinopec International (Middle East) FZE.,and ARAB TIMES, an authoritative media in Mid-East, worked together to promote EPEC platform. The websiteaddress is http://www.arabtimesonline.com/news/.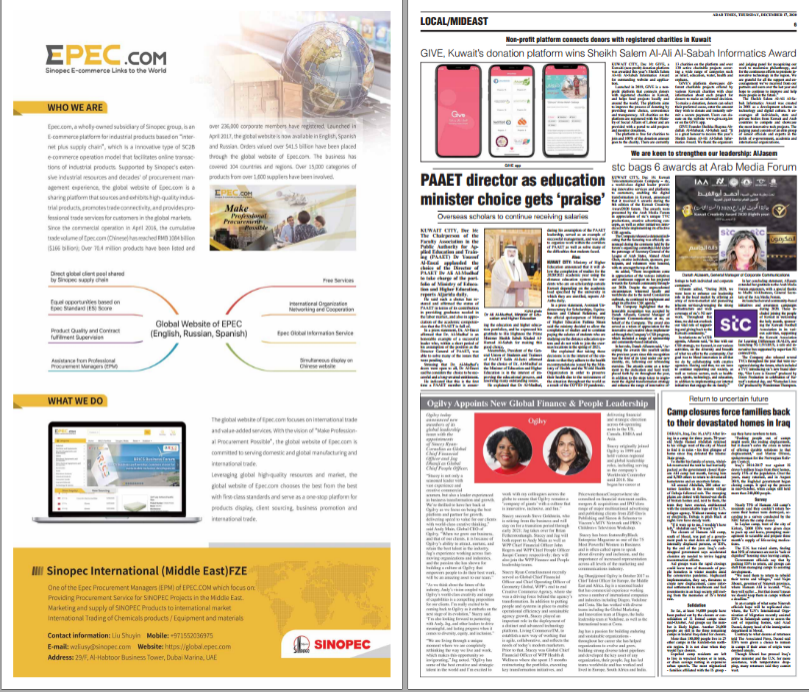 EPECuses the digital network service platform as a bridge to connect both sides of supply and demand, continuously improving market influence and brand service. We will increase global promotion, select platform users to jointly carry out overseas publicity, help companies expand global online and offline purchasing and marketing channels, and promote the transactionof international trade.

EPEC, Make Professional Procurement Possible. https://global.epec.com/