Epec-Sinotrans Euro-Asian Logistics Line Online Service
Epec and Sinotrans bring convenient and efficient international logistics services to platform users, overcome logistics difficulties during the epidemic, and help global enterprises resume production.
On March 27, the Sinotrans Euro-Asian Logistics Line Online Platform Y2t.com was officially launched. Throughdigital technology, the Euro-Asian Logistics Line integrates transportation capacity and overseas network resources such as air charter, China Europe train and sea transportation to provide customers with comprehensive logistics services from Asia to Europewith available shipping space, stable price and clear delivery schedule.
For users with logistics needs, please contact Epec directly through email (wzhanll@sinopec.com)or phone +86 10 8553 9050
Sinotrans Euro-Asia Line Shipping Rates: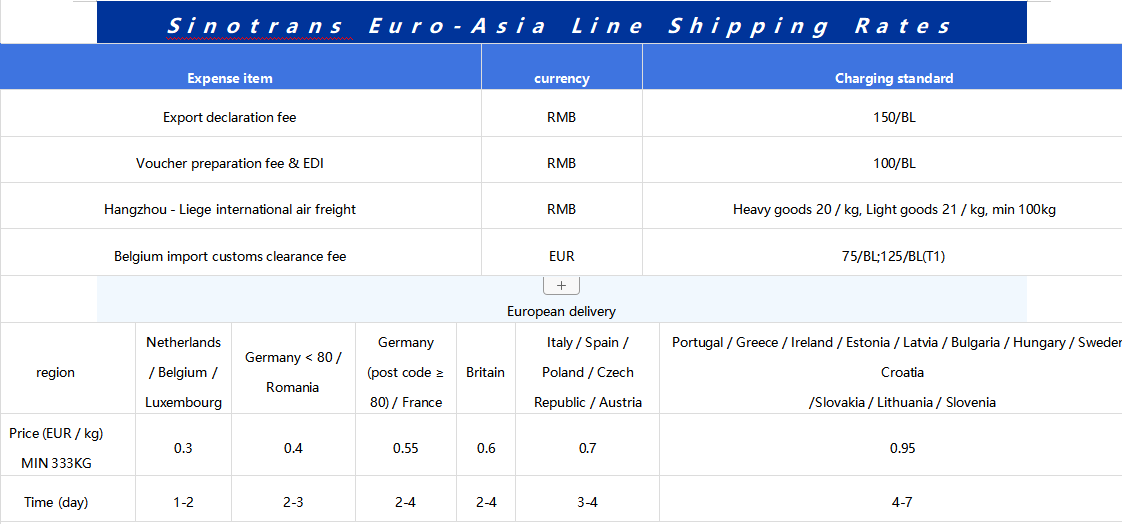 Notes:
1. Due to the epidemic situation, this quotation is valid untill Oct 15 2020;
2. The estimated door-to-door transportation time is 7 days, and the estimated receiving place is 10 days in Poland, Spain and Italy;
3. The order of epidemic prevention materials shall be negotiatedseparately, and the expenses not listed in the expense item shall be reimbursed if incurred;
4. The following qualifications shall be provided for the export of medical masks. At present, the inspection rate of export and importto Europeis 100%:
A. Business license (business scope includes medical devices);
B. Product record certificate or registration certificate;
C. Manufacturer's inspection report, enterprises with import and export business rights;
D. CE certification ( must be providedfor EU import);
E. In order to strengthen the supervision of the export quality of medical materials, the General AdministrationOfficeof Customs decided to carry out the export commodity inspection of medical materials under the commodity number of "63079000000" from April 10 in accordance with the law of the People`s Republic of China on the inspection of import and export commodities and its implementing regulations.