Russian Baltic Chemical Complex Information(中文版详见底部)
Baltic Chemical Complex LLC's ethane cracking complex is an integrated project aimed to process ethane-containing gas from Gazprom fields. The complex to be located near settlement Ust-Luga, Kingisepp District, Leningrad Region, comprises a gas processing plant, a gas chemical complex, and transport infrastructure facilities.
Project Name
Russian Baltic Chemical Complex
Industry
Petrochemical industry
Project Location
Near settlement Ust-Luga, Kingisepp District, Leningrad Region
Feedstock
Ethane
Capacity
6 lines of polyethylene production with a capacity of 480 ktpa each
2 lines of alpha-olefins production with a capacity of 137 ktpa each
Project engineering
Peton– Pre-FEED of a gas processing plant for Gazprom and Rusgazdobycha / Engineering of an integrated complex NIPIGAZ– FEED of gas processing facilities
Contractors
Under the license agreement,Lummus Technology (McDermott) provides a technology license for olefin production and recovery. Under the license agreement, Baltic Chemical Complex LLC will buy licensing rights for ethylene production technology that is expected to yield a total amount (lines 1 and 2) of up to 3 mtpa (licensed capacity of 2.8 mtpa). The plants are planned to provide feedstock to produce polyethylene at the gas chemical complex.
Under the license agreement,Univation Technologies LLC(hereinafter Univation) provides the licensed polyethylene production technology, including ultra-modern polyethylene production technology UNIPOL ™ PE. A separate agreement involves the supply of patented standard and advanced catalyst systems for the production of high-density polyethylene (HDPE), linear low-density polyethylene (LLDPE), and metallocene LLDPE.
EPC
China National Chemical Engineering Group Corporation Ltd.signed an agreement for the first stage of the production complex EPC (engineering and construction). This agreement provides for all the stages of engineering and site preparation for all the capacities, production facilities, and auxiliary facilities of the Ust-Luga Gas Chemical Complex, including pyrolysis and polymerization units, as well as OSBL, TSF, and logistics facilities. The EPC agreement totals 12 bln euros.
Funding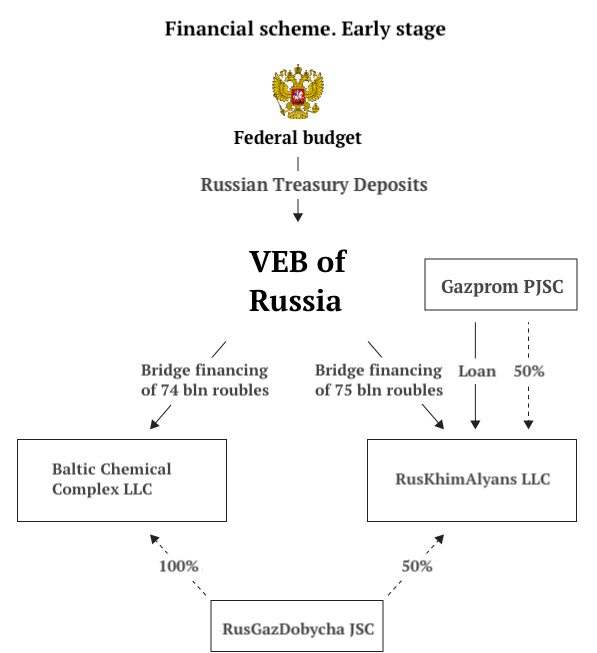 VEB.RF and the Baltic Chemical Complex (100% subsidiary of RusGazDobycha) signed a loan agreement on the allocation of up to 111 billion rubles for the gas chemical complex construction in Ust-Lug.
Timeline
1. Investment decisions are made at all stages of construction;
2. FEED starts in spring 2020;
3. Construction permits are expected to be obtained in June-August 2020;
4. Operation:
5. Construction stage 1 – Q3 2023;
6. Construction stage 2 – Q3 2024.
Sources:
https://globuc.com/cispetrochemicals/

https://news.petroren.com/
Legal statement:
1. The information reprinted or sorted out by the global website of Epec.com comes from official public channels or indicated sources. We are committed to providing reasonable, accurate and complete information, but do not guarantee the reasonableness, accuracy and completeness of the information. We are not responsible for any loss or damage caused by unreasonable, inaccurate or omitted information.
2. Epec.com fully respects the intellectual property rights of original authors. We solemnly remind visitors: when reprinting or using the information on this website, please obey relevant laws and regulations of the People's Republic of China. This website does not take any responsibility in case of related intellectual property disputes or other disputes. At the same time, this website has independent intellectual property rights for the original information and website logo. If the intellectual property rights of this website are infringed , this website has the right to pursue legal responsibility.
3. The information services published on this website are only for the purpose of information reference, learning or communication, and do not represent the views of this website, nor constitute any sales suggestions.
4. If this website inadvertently infringes the intellectual property rights of others, please write or call to inform, and this website will adjust or delete immediately.
If you have questions or need further assistance, please email: global.epec@sinopec.com.
俄罗斯波罗的海化工综合体项目信息
波罗的海化工联合有限责任公司(Baltic Chemical Complex LLC,下称BCC)乙烷裂化综合体项目,旨在处理来自俄罗斯天然气工业股份公司油田的含乙烷气体。 该综合体项目位于列宁格勒地区金斯谢普区乌斯特鲁加附近,包括天然气处理厂,天然气化工装置以及运输基础设施。
项目名称
俄罗斯波罗的海化工综合体项目
项目行业
石油化工行业
项目位置
列宁格勒地区金斯谢普区乌斯特鲁加附近
项目原料
乙烷
项目产能
6套聚乙烯装置,单套装置年产能为48万吨
2套线性α-烯烃装置,年产能为13.7万吨
工程设计
Peton公司——负责俄罗斯天然气工业股份公司(Gazprom)和俄罗斯天然气工业联合会(Rusgazdobycha)的天然气加工厂初步设计/综合体项目设计。
NIPIGAZ 公司——负责气体处理设备的前端工程设计。
技术许可
根据许可协议,麦克德莫特(McDermott) 旗下鲁姆斯技术公司(Lummus Technology)提供烯烃生产与回收的技术许可,BCC公司将购买乙烯生产技术许可。预计2套乙烯装置年总产量可达300万吨(许可产能为280万吨)。 上述生产线将为该综合体项目的聚乙烯生产提供原料。
根据许可协议,美国尤尼维因(Univation)技术公司提供聚乙烯生产技术许可,包括超现代聚乙烯生产技术——UNIPOL™PE工艺。 附加协议中约定了关于高密度聚乙烯(HDPE)、线性低密度聚乙烯(LLDPE)和茂金属线性低密度聚乙烯生产所用的催化剂体系专利许可。
EPC
中国化工集团公司作为综合体项目第一阶段EPC(工程建设)承包商,负责该项目第一阶段所有生产装置与辅助设施(包括热解装置,聚合装置,公用工程,物流设施等)的工程建设与现场准备。 EPC合同总额120亿欧元。
融资方案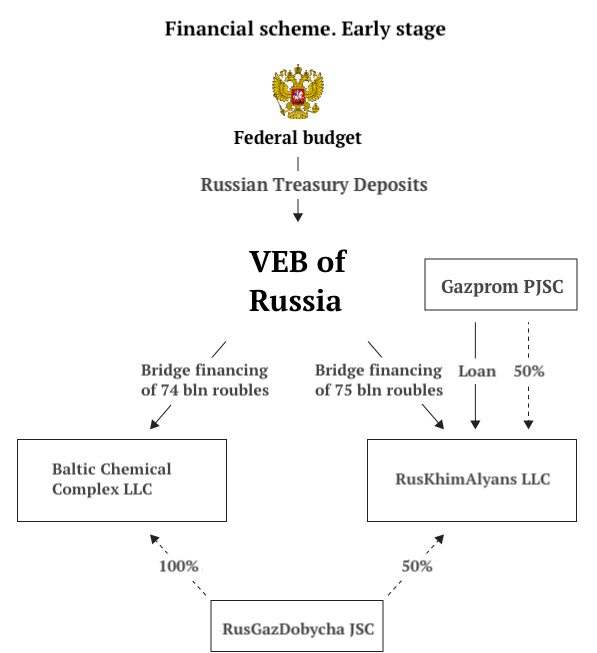 俄罗斯VEB银行与BCC公司(RusGazDobycha的 100%子公司)签署了贷款协议,为该综合体项目的建设拨款1110亿卢布。
时间线
1.各项目阶段都会做出投资决定;
2.前端工程设计将于2020年春季启动;
3.预计2020年6月至8月获得施工许可;
4.施工阶段1 :2023年第三季度;
5.施工阶段2:2024年第三季度。
信息来源:
https://globuc.com/cispetrochemicals/

https://news.petroren.com/
法律声明:
一、易派客国际站转载或整理发布的资讯信息均来自官方公开渠道或已注明来源,我们致力于提供合理、准确、完整的资讯信息,但不保证信息的合理性、准确性和完整性,且不对因信息的不合理、不准确或遗漏导致的任何损失或损害承担责任。
二、易派客国际站充分尊重原创作者的知识产权。我们郑重提醒访问者:在转载或使用本网站资讯信息时,请遵守中华人民共和国相关法律法规,若发生相关知识产权纠纷或其他纠纷,本网站不承担任何责任。同时,对本网站原创信息以及本网站标识,本网站享有自主知识产权。侵犯本网站之知识产权的,本网站有权追究其法律责任。
三、本网站发布的资讯服务,仅为提供更多信息以参考使用或者学习交流,并不代表本网站观点,也不构成任何销售建议。
四、若本网站无意中侵犯了他人知识产权,请来信或来电告之,本网站将立即调整或删除。
如有疑问或需要进一步帮助,请发送邮件至:global.epec@sinopec.com