Epec Global Information Service- Project Information-No. 4, 2020(中文版请见底部)
Information on the New Development Plan
for Ebano Field in Mexico
Project Name
New DevelopmentProject for Ebano Field, Mexico
Project Location
The Ebano field is located in the Tampico-Misantla Basin in northeastern Mexico, in the state of San Luis Potosi
Field Area
1,569 square kilometers
Project Background
The Ebanofield was discovered in 1901. Currently, there are about 180 wells in the fieldwith oil and gas production of 7,600 barrels and 750,000 cubic feet per day. The 3P reserves are approximately 64.4 million barrelsof oil and 11.3 billion cubic feet of natural gas.
Total Estimated Cost
1.003 billion dollars
Project Operators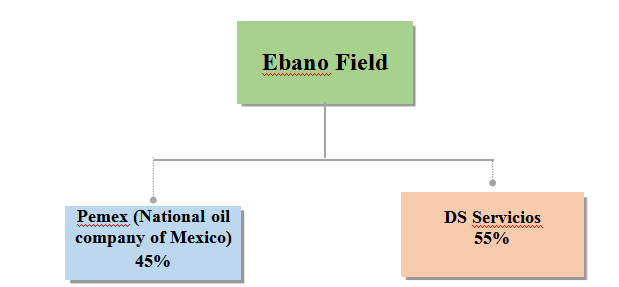 The operator of the field, DS Servicios, is a joint venture between Sinopec, China and Diavaz, Mexico.
Cooperative Development Contract
In the second half of 2018, the National Commission of Hydrocarbonsof Mexico (CNH), DS Servicios and Pemex signed the Contract for the SharedExploration and Extraction of Hydrocarbonsin Ebano Field.The duration of the Contract will be thirty years with the possibility of two extensions, each for 5 years.
NewDevelopment Plan
In 2019, the National Commission of Hydrocarbons(CNH)approved the new developmentplanfor Ebano field, with an estimated investment of $1.003 billion. By 2024, the output of this field is expected to increase to 14,000 barrels of oil and 2.7 million cubic metersof natural gas per day.
Activities:
1. Drilling: From 2019 to 2023, the two companies plan to drill 228 new wells in this field;
2. Workover: workover operations on 25 wells;
3. Utilization of non-associated natural gas: The plan includes a program to use non-associated natural gas to generate electricity, for which 12.7 million dollars will be invested.
Plan for 2020
lApproved budget for 2020
$ 115 million,66% for development activities and 32% for production activities.
lMonthly average output in 2020
Estimated 224,000 barrels of oil and 44.8 million cubic feet of natural gas
lActivities in 2020
Drilling of 39 wells, construction of access roads, 9 extractive improvements and 50 minor repairs
Sources:
1.https://oilandgasmagazine.com.mx/
2.https://energyandcommerce.com.mx/
3.https://globalenergy.mx/
4.WeChat public account: Shiyouren
墨西哥埃巴诺(Ébano)油气田新开发项目信息
项目名称
墨西哥埃巴诺(Ébano)油气田新开发项目
项目地点
墨西哥东北部Tampico-Misantla盆地,属San Luis Potosi州
油气田面积
1569平方公里
项目背景
埃巴诺(Ébano)油气田发现于1901年,目前在产井约180口,油气产量分别为7600桶/日和75万立方英尺/日,剩余探明、概算及可能储量(3P)约6440万桶石油和113亿立方英尺天然气。
新开发项目总投资
预计10.03亿美元
投资运营商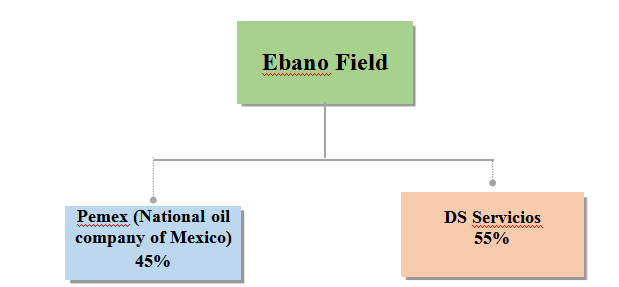 DS Servicios公司为该油田运营方,由中国石化(SINOPEC)和墨西哥Diavaz公司合资成立。
合作开发合同
2018年下半年,墨西哥油气委员会、DS Servicios公司与墨西哥国家石油公司Pemex签署了新的油气合作开发合同,合同期30年。该合同可延长2次,每次5年。
新开发项目内容
2019年,墨西哥石油管理局(CNH)批准了Ébano油气田的新开发项目,预计总投资约10.03亿美元。计划到2024年,该油气田产量将提升至石油1.4万桶/日,天然气270万立方米/日。
新开发项目具体包括:
1.钻井:2019年到2023年,两家公司计划在该油气田新钻228口开发井;
2.修井:两家公司计划进行25口井的修井作业;
3.非伴生天然气利用:两家公司还计划对该油气田的非伴生天然气进行有效利用,以进行天然气发电,需建设相关处理设施,预计投资1270万美元。
2020年计划
l2020年已批准预算
1.15亿美元。其中66%将用于油气田开发活动,32%将用于生产活动。
l2020年月平均产量
预计22.4万桶石油和4480万立方英尺天然气
l2020年重点工作
39口油井钻探、道路修建、9处采掘改进以及50处小修
来源:
1.https://oilandgasmagazine.com.mx/
2.https://energyandcommerce.com.mx/
4.石油人公众号
Legal statement:
1. The information reprinted or sorted out by the global website of Epec.com comes from official public channels or indicated sources. We are committed to providing reasonable, accurate and complete information, but do not guarantee the reasonableness, accuracy and completeness of the information. We are not responsible for any loss or damage caused by unreasonable, inaccurate or omitted information.
2. Epec.com fully respects the intellectual property rights of original authors. We solemnly remind visitors: when reprinting or using the information on this website, please obey relevant laws and regulations of the People's Republic of China. This website does not take any responsibility in case of related intellectual property disputes or other disputes. At the same time, this website has independent intellectual property rights for the original information and website logo. If the intellectual property rights of this website are infringed , this website has the right to pursue legal responsibility.
3. The information services published on this website are only for the purpose of information reference, learning or communication, and do not represent the views of this website, nor constitute any sales suggestions.
4. If this website inadvertently infringes the intellectual property rights of others, please write or call to inform, and this website will adjust or delete immediately.
If you have questions or need further assistance, please email: global.epec@sinopec.com.