On November 13, 2019, local time, the BRICS Business Council Digital Economy Group Meeting was held in Brasilia, Brazil. The conference delegates included more than 40 members from Brazil, Russia, India, China and South Africa. Epec attended the meeting as one of the core members of the Chinese Digital Economy Group.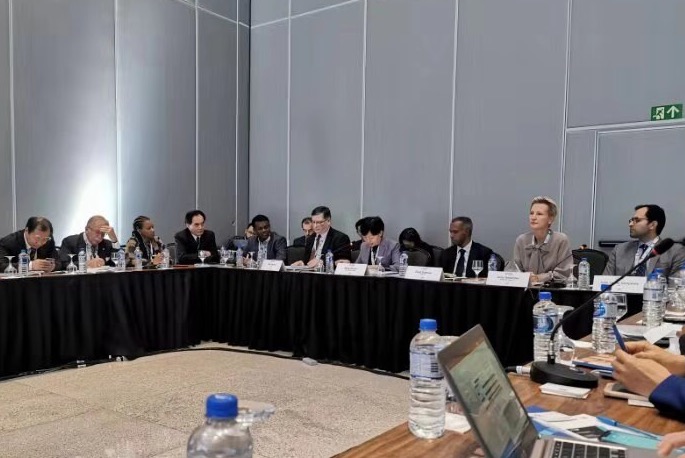 The conference focused on the four major issues, including digital economy accessibility, digital education and literacy, market access and digital platform development, and digitalization of SMEs. At the meeting, representatives of various countries actively shared their developments on major issues, excellent policy practices and suggestions for cooperation between BRICS countries. Sinopec Epec was listed as one of the eight core achievements of the BRICS Business Council in 2017 and was invited to join the Digital Economy Group as a core member of the Chinese side. At this meeting, only the group leader units of each country gave keynote speeches on each topic. All representatives participated in the discussion. The main objective of the discussion on market access and digital platform development issues is to promote cooperation between digital platforms and digital economic technologies through the construction of e-commerce platforms and the construction of standard rules. China Unicom, the Chinese side leader unit, introduced the development and experience of China's e-commerce, and highlighted the Epec platform. China Unicom introduced Epec`s positive contribution of in promoting international trade among BRICS countries and the innovative initiatives such as the Epec Standard in the field of industrial e-commerce. The remaining meeting proposals include linking the national initiatives and institutions under this agenda, such as the Industry 4.0 Department established by the Ministry of Science and Technology of Brazil in April this year, promoting the cooperation of national telecommunications leaders in 5G, and recommending and sharing outstanding examples of cyber security, artificial intelligence, data protection, cloud computing, and blockchain, etc.
On other topics including digital economic accessibility, digital education and literacy rates, and the digitalization of SMEs, governments of each BRICS countries have introduced relevant national plans or projects. The development of the digital economy is unbalanced in BRICS countries except China, and the development of infrastructure needs to be improved. However, these issues have all been paid high attention by governments and have great room for cooperation in the future.
Through the Digital Economy Group Meeting, the communication and cooperation between countries in the digital economy have been further strengthened. The next step will be to carry out the work in an orderly manner as specified in the meeting report. The next BRICS Business Council Annual Meeting will be held in Russia.